Culinary multi-tasking has never been easier.
The HENDICHEF is the first multi-purpose kitchen machine from HENDI specifically designed to channel the full creativity of professional users into a single multifunctional tool - to provide chefs with the best possible support in creating mesmerizing culinary masterpieces day after day.
The first HENDI multi-purpose kitchen machine especially for professional users.
You want your own HENDICHEF?
The ideal multitasking assistant for your daily kitchen routine.
The HENDICHEF offers full flexibility and efficiency for a multitude of work steps. It takes over many often tedious or time-consuming kitchen tasks, allowing for more time for the really important things - your unrestricted culinary creativity and the reliably consistent quality of your food.
The heart of the HENDICHEF: the IPC system.
Many pre-installed recipe ideas just a click away. Be inspired, create your own favourite recipes and always have everything at your fingertips.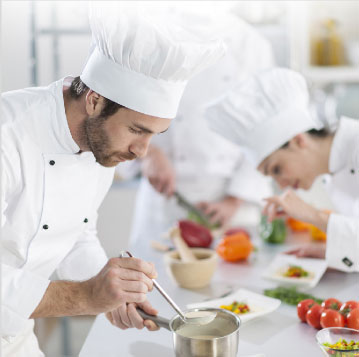 The HENDICHEF offers countless practical functions to simplify your everyday kitchen life. It takes the basics off your hands so you can concentrate on the essentials.
The choice is yours. Use pre-installed recipes or create your own. The HENDICHEF allows you to turn your culinary ideas into reality.
All-in-one for the advanced.
WHIPPING | MIXING | GRATING       
STIRRING | COOKING | KNEADING
CHOPPING | CUTTING | SAUTÉING
All standard functions at the touch of a button.
Chopping, stirring, steaming, sautéing, grating, sous-vide cooking, whipping, melting, caramelising, emulsifying, kneading, chopping, mincing, grinding, cutting, mixing, blending and weighing have never been this easy.

The HENDICHEF is more than standard.
Colour display by means of a large TFT display.
Continuous additions to the recipe database.
WiFi connection for updates and new recipe ideas.

Easy changing of cooking parameters during the cooking process.



and much more
Prepared for everything.
Thanks to extensive accessories.
1.3 hp motor with interval operation..
Powerful performance with acceleration up to 5,000 rpm makes it possible to transform even hard ingredients into the finest consistencies and textures in no time.
For easy and gentle mixing, the HENDICHEF also has 3 practical reverse gears..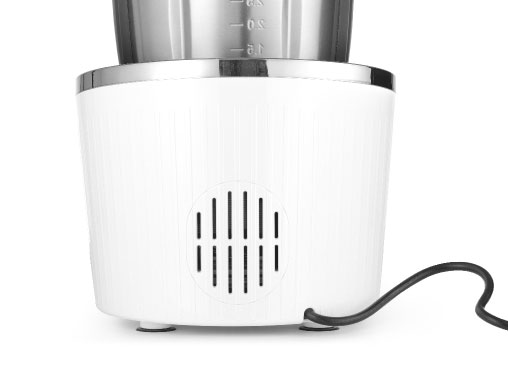 Heating element with accelerated heating cycle.
With a power of up to 1 kW, preparing food takes just a moment. Additionally, the available temperature range of 37-130 °C with graduation in 5-degree steps allows for full flexibility while maintaining the best temperature control. For your safety, the integrated Speed Hot module is equipped with an overheating protection for cooking an empty ingredient bowl, offering ideal protection at all times - even in everyday's stressful kitchen routines.
Practical multi-purpose pot.
The spacious 4.5-litre multi-purpose pot with a working volume of 3 litres is made of high-quality and acid-resistant stainless steel (AISI 304). It is, therefore, ideally suited for a wide range of applications and impresses with its outstanding durability and easy cleaning. Thanks to the safety switch, the HENDICHEF can only be used when the lid is closed properly.
TFT display and quartz scale.
The high-quality, easy-to-read and durable TFT display offers high resolution, improved image reproduction performance and excellent colour sharpness and is, thus, ideally equipped for the challenges of demanding everyday kitchen work,
The integrated quartz scale has a tare function, allows ingredients from 5 g to 5 kg to be weighed with pinpoint accuracy and is fully functional even during an active preparation process."
Robust housing.
The motor housing is made ABS plastic and offers the best protection and increased durability even with intensive daily use. In addition, thanks to the Slide Lock system, the HENDICHEF always offers a firm and secure hold without slipping.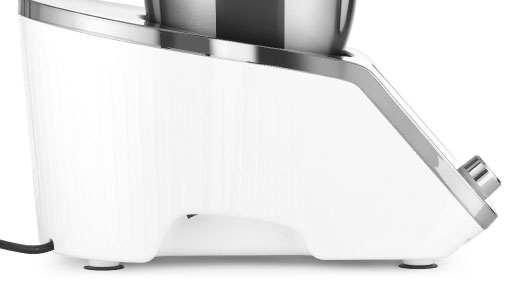 High-quality original accessories.
B. Cover for preparing cold food.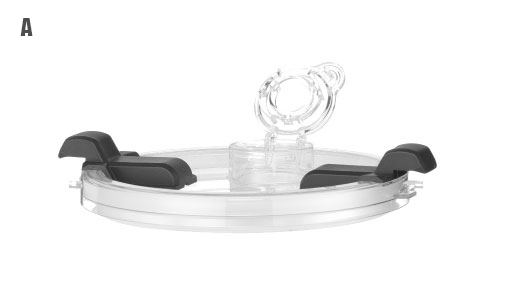 B. Cover for preparing cold food.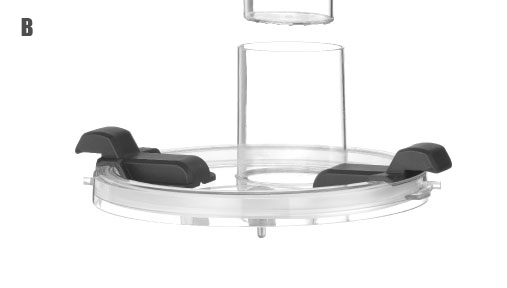 Multifunctional cutting disc.
The 2-function cutting disc equipped with 13 teeth cuts vegetables, fruit or cheese without any problems or acts as a powerful slicer. Equipped with a laser-ground blade with a 65 mm blade and 3 mm cutting width, you can always rely on a consistent and high-quality cut of your ingredients.
Knife with 4 blades.
The high-quality knife made of hardened AISI 420 stainless steel in 3D configuration has a single-sided cutting edge that guarantees an excellent shredding performance and consistently good cutting results.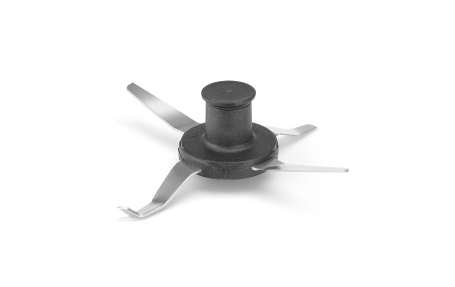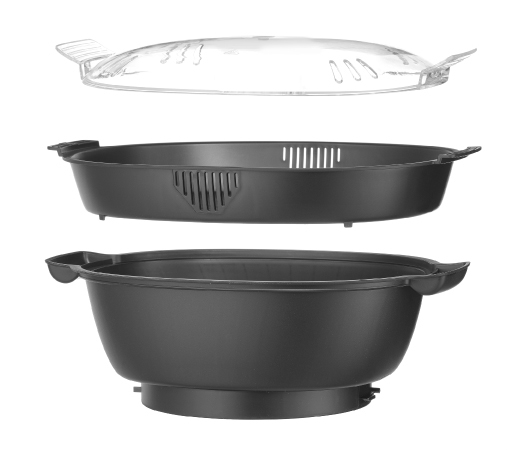 3-piece steam cooking set.
The practical steam cooking set included in the scope of delivery contains the following components:
4.5l polymer container that can be attached directly to the multi-purpose pot.
Steam cooking insert to double the usable working volume.
Transparent cover to regulate the amount of steam and ensure that the food retains its full flavour and crispness.
Strainer insert.
The practical strainer insert allows the food inside to be spaced approx. 40 mm from the base and approx. 18 mm from the pot walls and can also be used to effectively strain the food.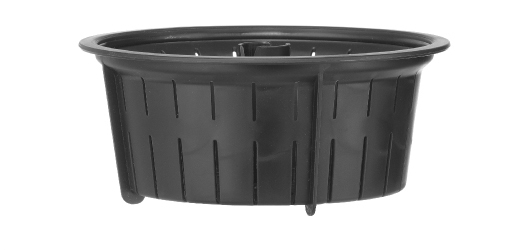 Abrasion- and temperature-resistant silicone spatula and measuring cup.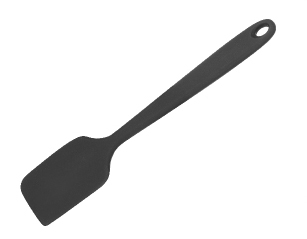 Attachments for whipping egg whites, cream, emulsions, soups, etc.